About Born Together - Reared Apart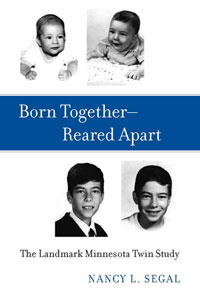 Winner of the 2013 William James Book Award, American Psychological Association

The identical "Jim twins" were raised in separate families and met for the first time at age thirty-nine, only to discover that they both suffered tension headaches, bit their fingernails, smoked Salems, enjoyed woodworking, and vacationed on the same Florida beach. This example of the potential power of genetics captured widespread media attention in 1979 and inspired the Minnesota Study of Twins Reared Apart. This landmark investigation into the nature-nurture debate shook the scientific community by demonstrating, across a number of traits, that twins reared separately are as alike as those raised together.
Shown on JEOPARDY, February 13, 2014! Born Together-Reared Apart was the second question posed to contestants in the College Championship Quarterfinal. Answer: Who are identical twins? See the link below.

http://m.youtube.com/watch?v=VYzl2cwKKKc&desktop_uri=%2Fwatch%3Fv%3DVYzl2cwKKKc


As a postdoctoral fellow and then as assistant director of the Minnesota Study, Nancy L. Segal provides an eagerly anticipated overview of its scientific contributions and their effect on public consciousness. The study's evidence of genetic influence on individual differences in traits such as personality (50%) and intelligence (70%) overturned conventional ideas about parenting and teaching. Treating children differently and nurturing their inherent talents suddenly seemed to be a fairer approach than treating them all the same. Findings of genetic influence on physiological characteristics such as cardiac and immunologic function have led to more targeted approaches to disease prevention and treatment. And indications of a stronger genetic influence on male than female homosexuality have furthered debate regarding sexual orientation.


From the Book Cover:

"Twins separated at birth are endlessly fascinating and give us some of the best scientific insights into nature and nurture. No one can tell this story better than Nancy Segal, gifted scientist, raconteur, and wise observer of human nature."
         —Steven Pinker, author of The Better Angels of Our Nature
 "Born Together—Reared Apart is a tour-de-force in the history of psychology and twin research. Describing the twins' life stories as well as the scientific data, Segal gives us a compelling account of the findings, implications, and controversies from the world famous Minnesota Study of Twins Reared Apart. The book will be essential for anyone seriously interested in the genetic and environmental influences affecting human health and behavior."
      —Robert Plomin, Professor of Behavioral Genetics, King's College London
"This is a vivid and intimate account of one of the classic episodes in the history of the nature–nurture debate by somebody who was part of the team. The Minnesota Study of Twins Reared Apart made a vital difference, against often entrenched conventional wisdom, to the understanding of human development. Nancy Segal tells the story of the project superbly."
      —Matt Ridley, author of Nature via Nurture

Interesting Facts About the Minnesota Study of Twins Reared Apart:

-Findings from the Science paper on general intelligence (Bouchard et al., 1990, Sources of human psychological differences: The Minnesota Study of Twins Reared Apart, 250: 223-229) were highlighted in one of the forty essays in the volume: Richard R. Hock (ed.) Forty Studies That Changed Psychology: Explorations into the History of Psychological Research. Upper Saddle, NJ: Pearson, 2005, 18-26.

-The Science paper (see above) was assigned reading for Jeannie Ferrami's students in The Third Twin by Ken Follett (1996). This suspense novel involves identical twins born to different mothers as part of a conspiracy of genetic experiments.